Material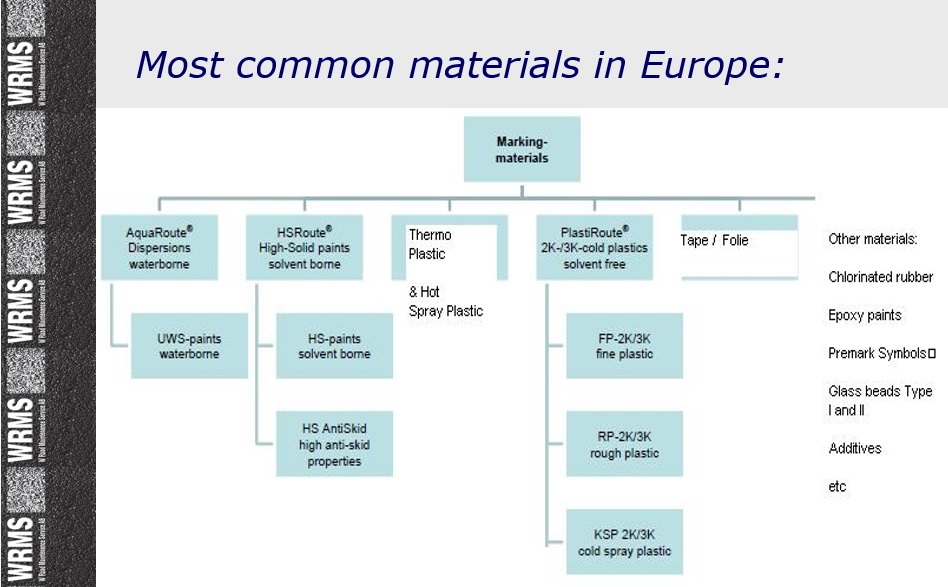 In Europé are 8 larger groups represented in the area of Road Marking production. One is based in U.S.; one in Austria/Germany; one in France; one in Spain; one in U.K. and two in Scandinavia. These are all Multinational companies, active in whole Europe – often with sales representatives/offices and/or contracting activities. One thing most of these companies have in common is that they are your competitor [if you are a contractor].
In addition to these companies are a number of very good and experienced material producers; where the better ones are to be found in Germany (3); Greece (US owner); Ireland, Switzerland and Scandinavia.
WRMS AB did on 1 January 2015 decide to add Road Marking Materials to its portfolio. After 12 years as employee in one of "the big ones"; and with 20 years of experience from the business; WRMS holds an experience and competence profile which success concept is to optimize "Value for Money".
WRMS AB's partner criteria's has been:
A minimum of 30 years' experience from material production
Own and extensive contracting volumes at their home markets (to ensure that the producer knows how material must perform on the road)
Relevant material export (at least 10 countries)
High technical competence at the laboratory (in order to secure material quality, development and service)
ISO certified (including proper reclamation procedures/management)
Relevant production volym (to secure good purchase prices of raw materials)
Relevant capacity (for expansion)
Low "over-head" ("tight" management)
Quick and short decision processes – and relevant, delegated, decision power for WRMS
Relevant European Certificates (and the power and interest to obtain more)
Strong economy
The producers WRMS have choosen to be representatives for; are defined more in detail under the headlines for each materials.
WRMS have also good contacts and relation with most of the material producers at the market; which enables WRMS to be able to provide also other niche products, such as (road studs, Prefabricated symbols, friction surfaces, asphalt repair solutions etc etc); and some raw materials.